Note: Multi-Tech inspections are not enabled by default. Contact your CSM to enable this feature. For information on how to schedule a multi-tech inspection, click here.
Guide to Inspect Point's "Multi-Tech" Inspection Functionality
While Inspect Point can accommodate multi-technician inspections, it's important to understand how to use this functionality.
Since multi-tech inspections involve numerous devices in the field, there is a potential for data conflicts.
We see these conflicts happen the most with extinguishers, so if you inspect these devices, this process is even more important.
However, following the best practices described below will help avoid issues:
Plan out which technician is going to do which part of the inspection
Each Inspect Point inspection is divided up into different parts. In the sample inspection below, we have a "Forms" section which includes 3 parts: General Questions, General Wet System Questions, General Dry System Questions. We have our "Systems" section comprised of 2 parts: Wet 1, and Dry 1, for example.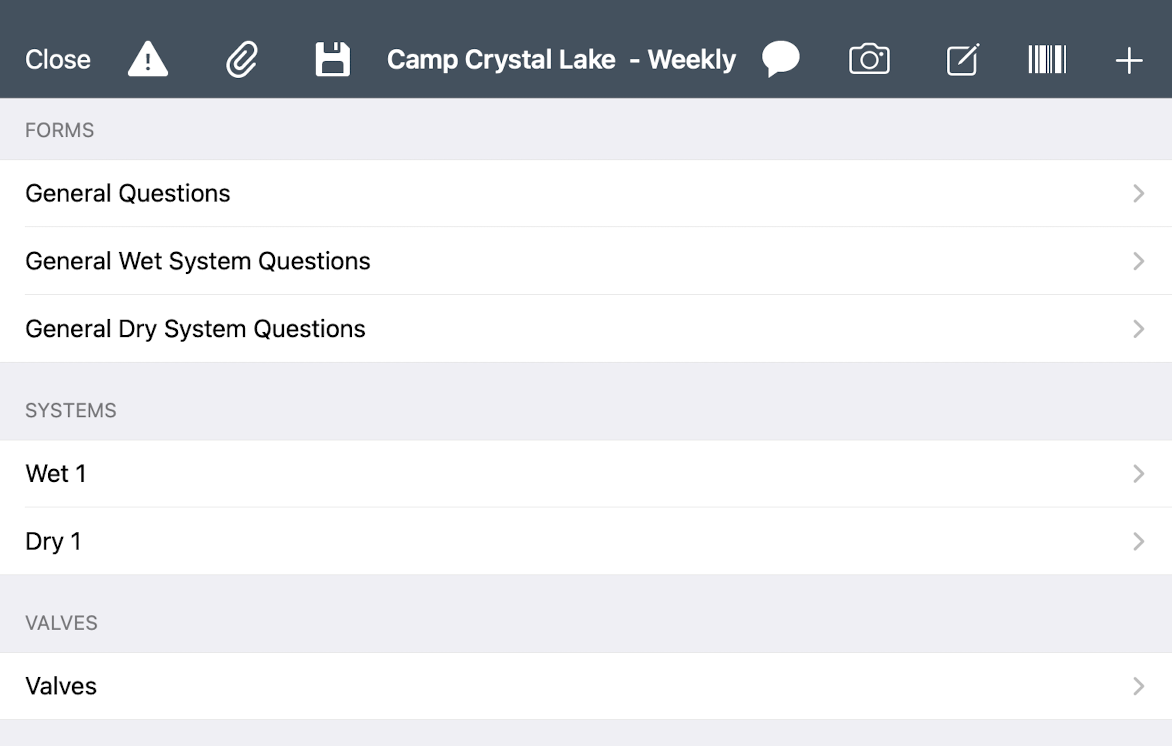 Two technicians cannot work on the same part of the inspection. For example, you cannot have two technicians answering questions on the "Wet 1" part of the inspection. If this occurs, the technicians will override each other's answers.
Accordingly, the inspection MUST be split up wherein each tech is assigned their own part of the inspections, for example: technician "John Doe" works on Wet 1, technician "Bob Smith" works on Dry 1, etc.
Instruct technicians to only tap into his/her assigned part of the inspection
Make sure each technician only taps into his/her own part of the inspection. For example, as described above, "John Doe" should tap ONLY "Wet 1."
If a technician taps into another technician's assigned part, he/she will overwrite the answers/notes on that part. So it's very important to completely avoid tapping into ANY parts of the inspection that are assigned to other users.
Educate technicians on how to submit the inspections
When the technicians are ready to submit their work, make sure that the first tech to submit chooses "Awaiting other Techs" and that the final tech selects "Ready for Review."
The tech set up as the main tech on the inspection should be the last to submit. Do not make any changes to the inspection from the back-end after the inspection has been started. (This is true of all inspections, but especially for multi-tech inspections)
Help technicians remember these guidelines
It can be helpful to use "Technician Instructions," which will be seen by all technicians working on the inspection, to remind techs of their assignments and of these best practices.
You can use the following template:
REMINDER: This is a multi-tech inspection. Tap into/inspect ONLY your assignment (listed below) and when finished remember to press "Awaiting other Techs" unless you are the main technician. Assignments are as follows:

[Inspection Part] - [Tech Name]
[Inspection Part] - [Tech Name]
Additional Considerations
For California inspections using the AES forms, multiple technicians can be on the same inspection, but they canNOT inspect the same form.
Need help? Contact our Support Team at support@inspectpoint.com or submit a support ticket via the web widget on the bottom-left on your screen - Click here for more information