Within the Inspect Point iOS applications, technicians can use "quick inspect" and "bulk inspect" modes as a way of saving time when conducting alarm device inspections.
With "quick inspect" enabled, technicians no longer have to click into each individual inspection item to complete the inspection. And, when using "bulk inspect" technicians can select answers for multiple devices at once.
Note: Quick Inspect and Bulk Inspect are available for NFPA and ULC devices. Technician devices must be (at a minimum) on version 6.9 to access NFPA, and 6.9.5 to access ULC.
Quick Inspect is available for all users.
However, Bulk Inspect must be enabled by request. Please contact your Customer Success Manager to enable it for you. The reason for this is because of Bulk Inspect's speed and power. You can complete 100 alarm device inspections in 10 seconds, for example; we want to be sure you understand how to use it properly to maintain compliance while completing inspections.
How to Use Quick Inspect
To turn Quick Inspect on, click the button at the top-right of the screen that says "Quick Mode."
Once enabled, the options for "Visual Check," "Functional Check," and "Pass/Fail" will appear underneath each inspection item. Technicians can answer these questions without having to click into the specific item.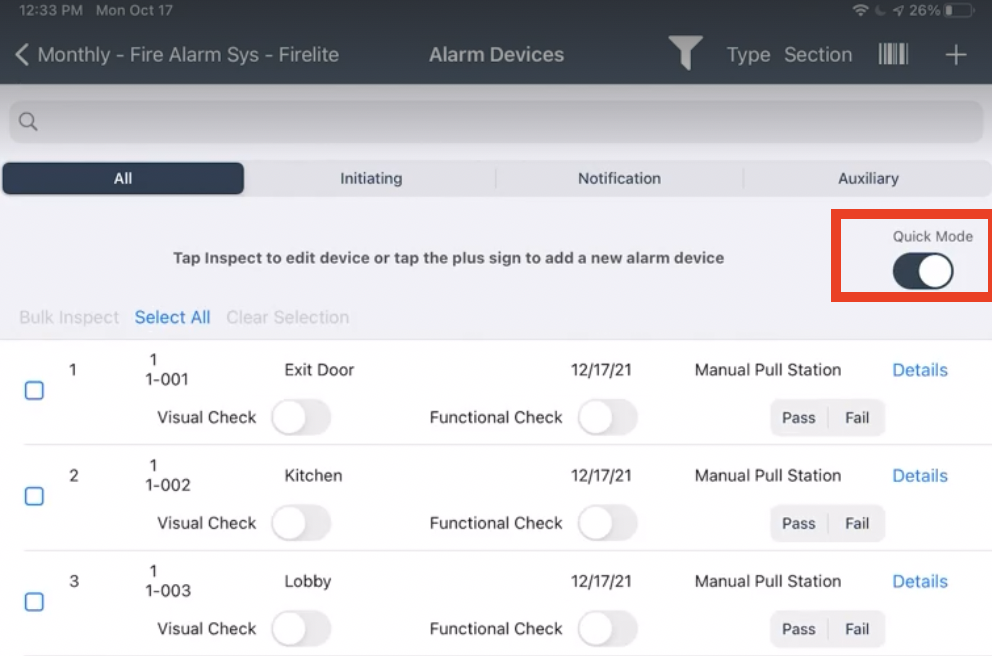 How to Use Bulk Inspect
With Bulk Inspect, you can complete inspections for multiple items at once. A common workflow would be to bulk inspect entire sections of strobe lights or alarm devices at once. As a reminder, you must contact your Customer Success Manager to enable Bulk Inspect.
To use Bulk Inspect, the "Quick Mode" button must first be turned on. From there, begin selecting inspection items by clicking their checkboxes. As you select items, you'll see the "Bulk Inspect" button turn blue, indicating you're ready to perform a bulk inspection.
You can select as many items as you'd like to inspect. You can also click the "Select All" button to select every item in the system.
Clicking "Clear Selection" removes all selected items from your bulk inspection.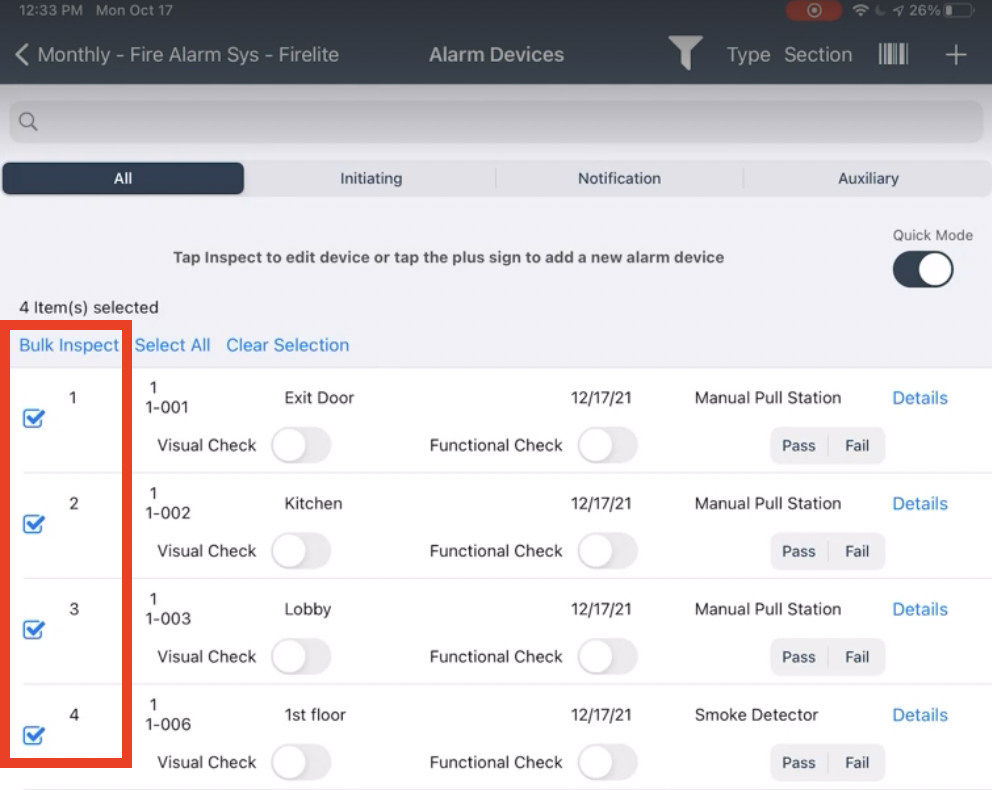 Once you've selected all the items you'd like to inspect, click the "Bulk Inspect" button to open the bulk inspection modal. Here, you can answer the same questions as "Quick Inspect," as well as add any notes or reasons you want to link to each inspection item.
You can also mark a group of inspection items as "No Access" with Bulk Inspect.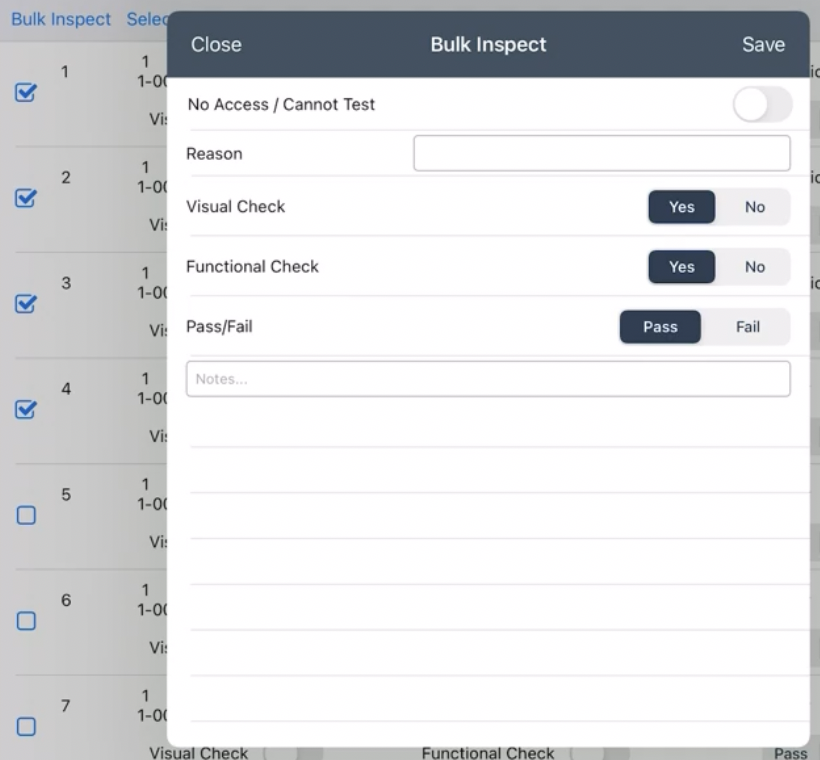 Once you're satisfied, click Save and you'll see your answers populate on all your selected inspection items.
Note: You can still edit individual items after bulk inspecting entire groups. For example, if 19 out of 20 alarm devices pass, you could bulk inspect all 20, and then edit the one that failed individually. Editing the lone device wouldn't affect the other 19.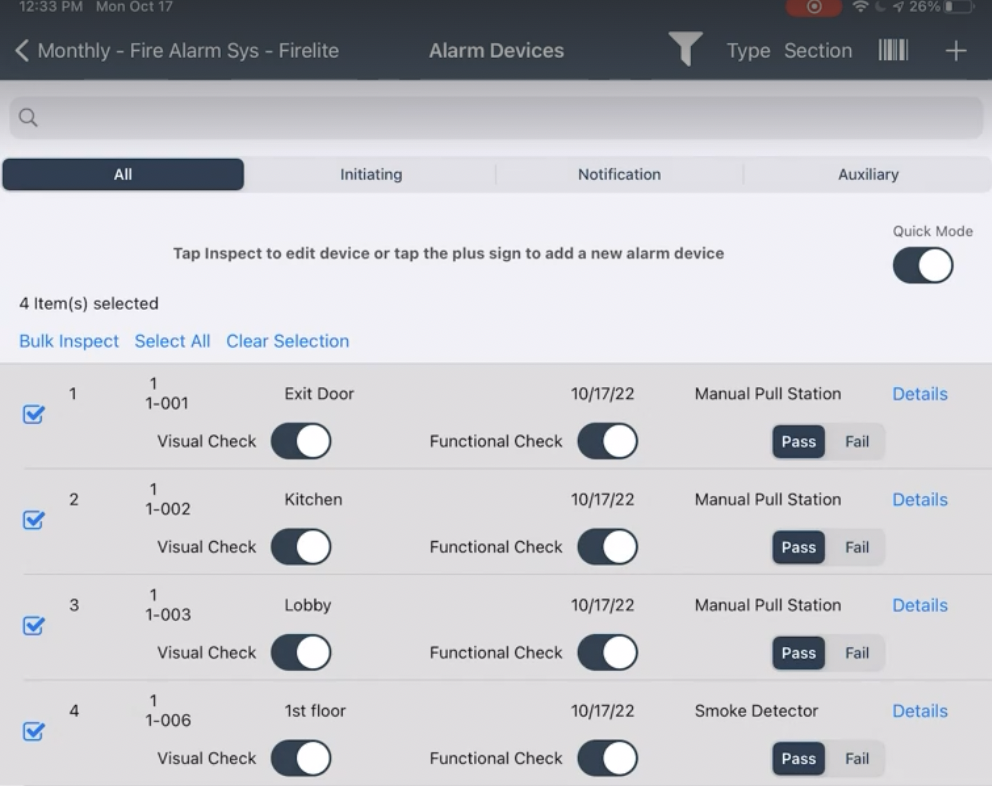 Cloning & Updating Your Answers
You can clone your inspection items with Quick / Bulk Inspect by swiping the device row to the left to reveal the "Clone" and "Reset" options.
Once revealed, tap the "Clone" button. This opens a modal asking you how many copies of the device you'd like to create. Select how many copies, and then click "Clone" to create your new devices.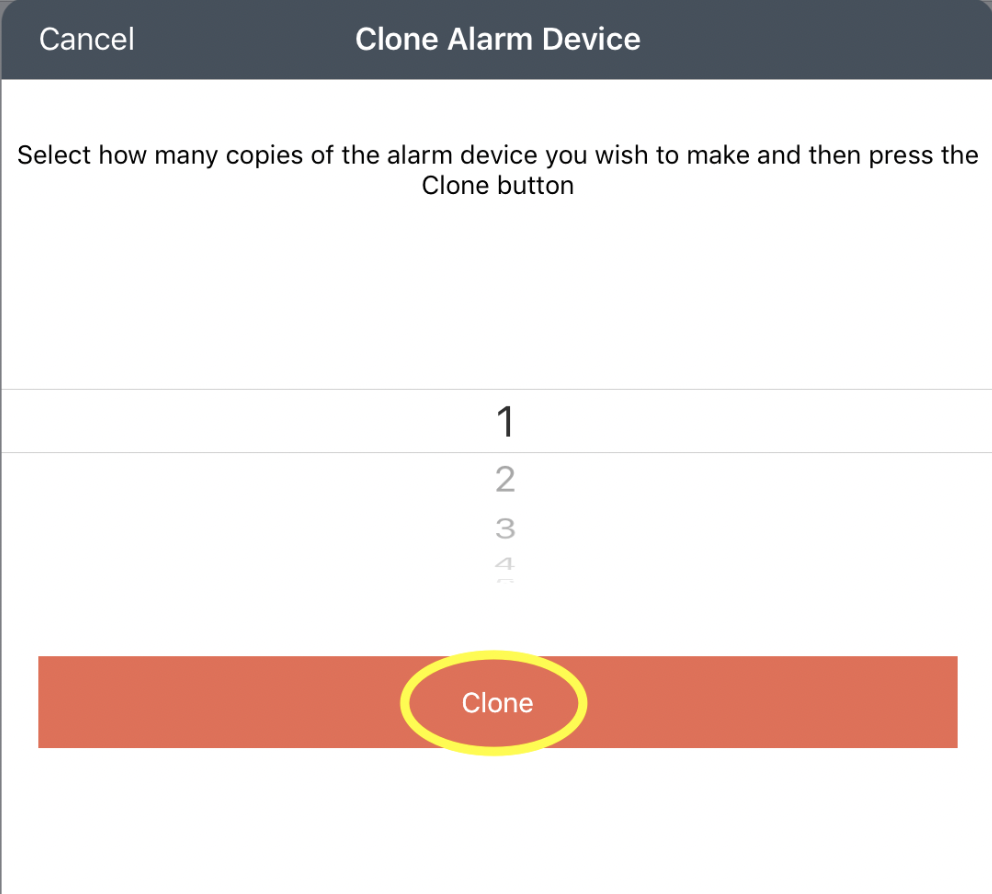 Updating your answers is also possible by swiping left on the device row. This feature returns your inspection answers to their defaults of "Yes," for Yes / No questions, and Pass for the Pass / Fail question.
Note: You cannot bulk reset questions the same way you can bulk inspect. As such, if you bulk inspect 100 alarm devices and realize you hit "Yes" instead of "No," you will have to reset that question individually for each device. This is the inherent risk of using Bulk Inspect and why it's important to double-check your answers before submitting.
Once you've answered your inspection questions, either with Quick or Bulk Inspect, continue your inspection the same way you normally would. That is, answer the rest of the question for each inspection type, and then submit the inspection to the backend by clicking "Review and Complete."
ULC Quick & Bulk Inspect
Quick & Bulk Inspect are also available for ULC customers. The workflow is the same for ULC as it is for NFPA, however, the iPad does look different. The screen is shown below: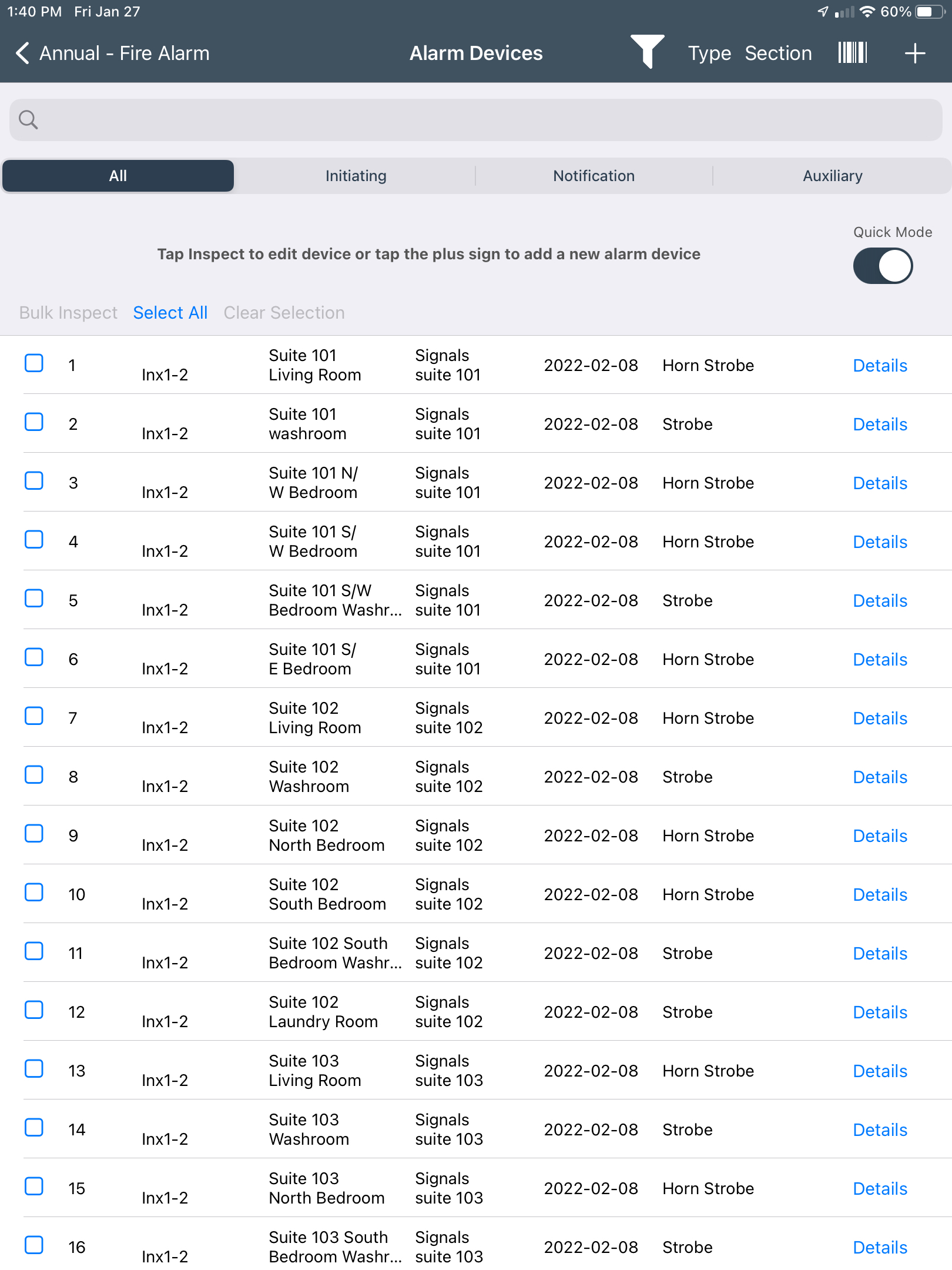 Need help? Contact our Support Team at support@inspectpoint.com or submit a support ticket through the "Submit a request" link above