Inspect Point allows technicians to schedule their own inspections from the iPad. This allows techs greater control over their scheduling. For example, if a tech is dispatched 30 inspections on the first of the month, they now have the ability to change these visits to dates and times most convenient for them.
This article covers how to turn this feature on and how to use it on both the iPad and in the office.
Using Technician Self-Scheduling
Technician self-scheduling is not available by default. To turn it on, contact your CSM and the flag will be enabled in your instance.
Once activated, techs will be able to view all inspections whose status is set to "Scheduled" and/or "Started" on the iPad. These inspections, and any additional visits on the inspection, will appear under the "Schedule Information" header on the right side of the screen.
The picture below shows an inspection with one visit at the building "1DL Food Distribution."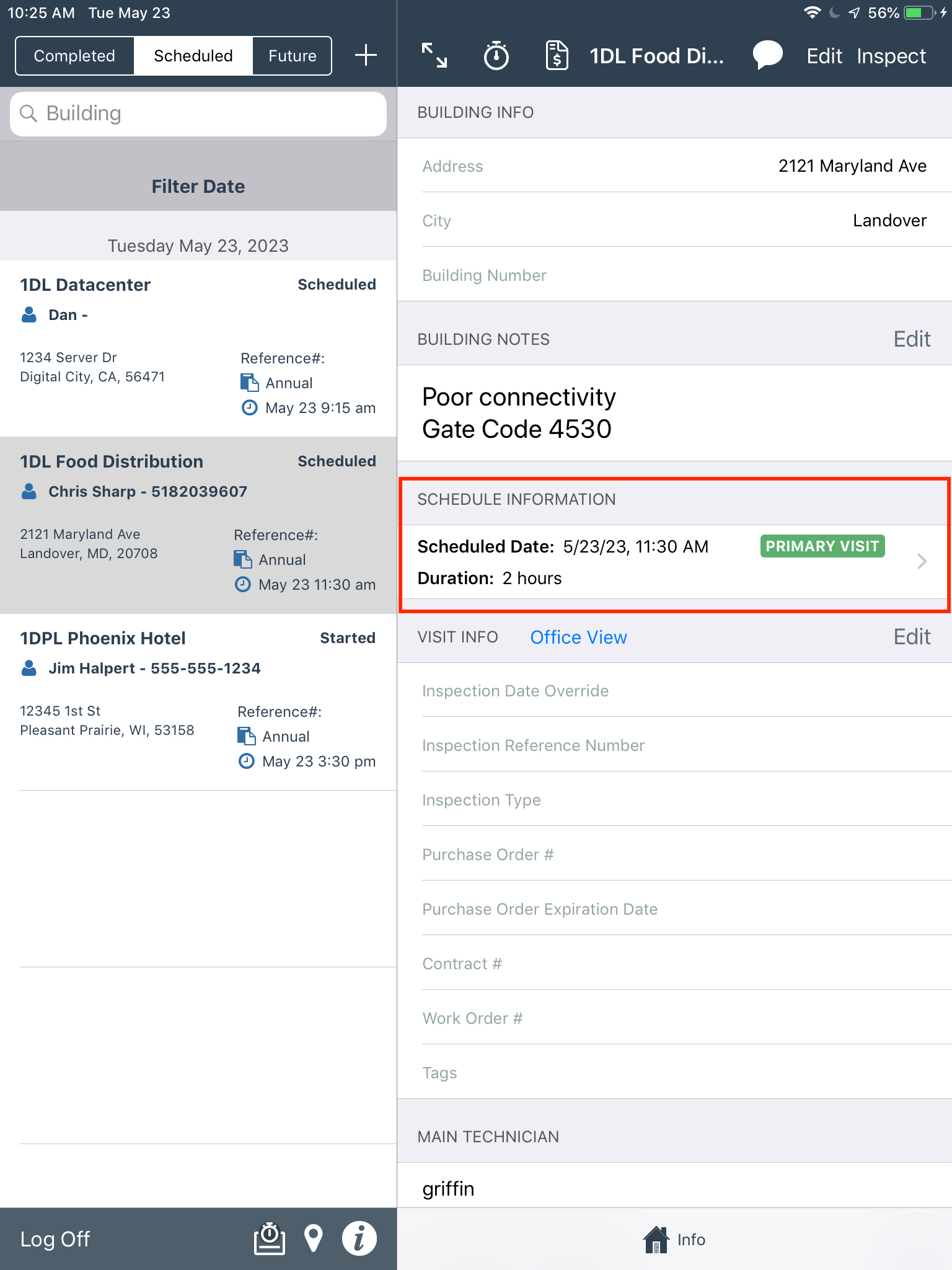 Here, techs can see the scheduled date, time, and duration of the visit. The "Primary Visit" icon indicates this is the scheduled date of the original inspection and visit. Additional visits will be shown below the Primary Visit, and will not display this icon. An example of this is shown below.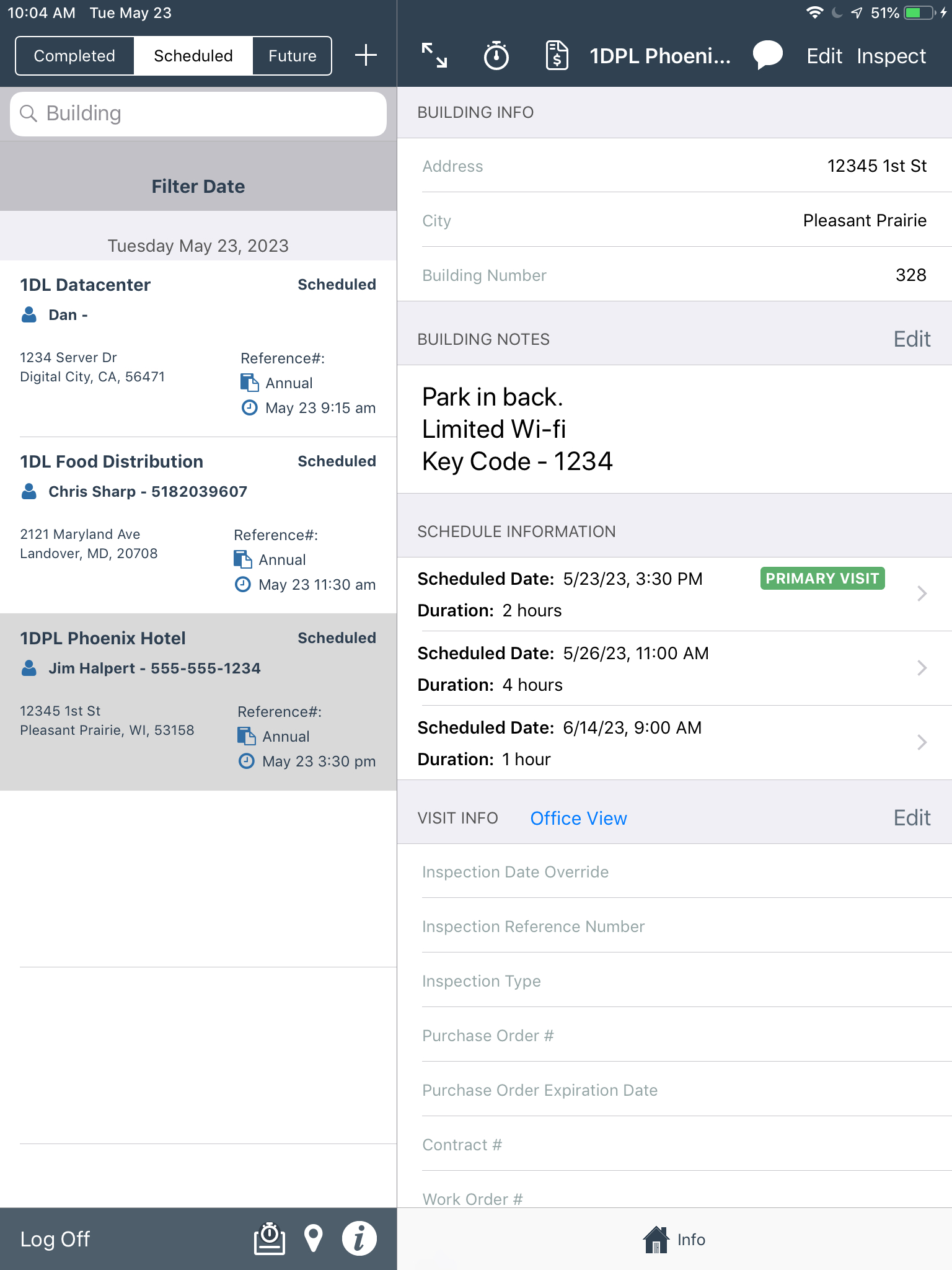 Here, we can see the visit on 5/23 is the Primary Visit, and the additional visits on 5/26 and 6/14 are not.
To edit either the Primary Visit or additional visits, tap into the desired visit. This will open a modal displaying the current date, time, and duration.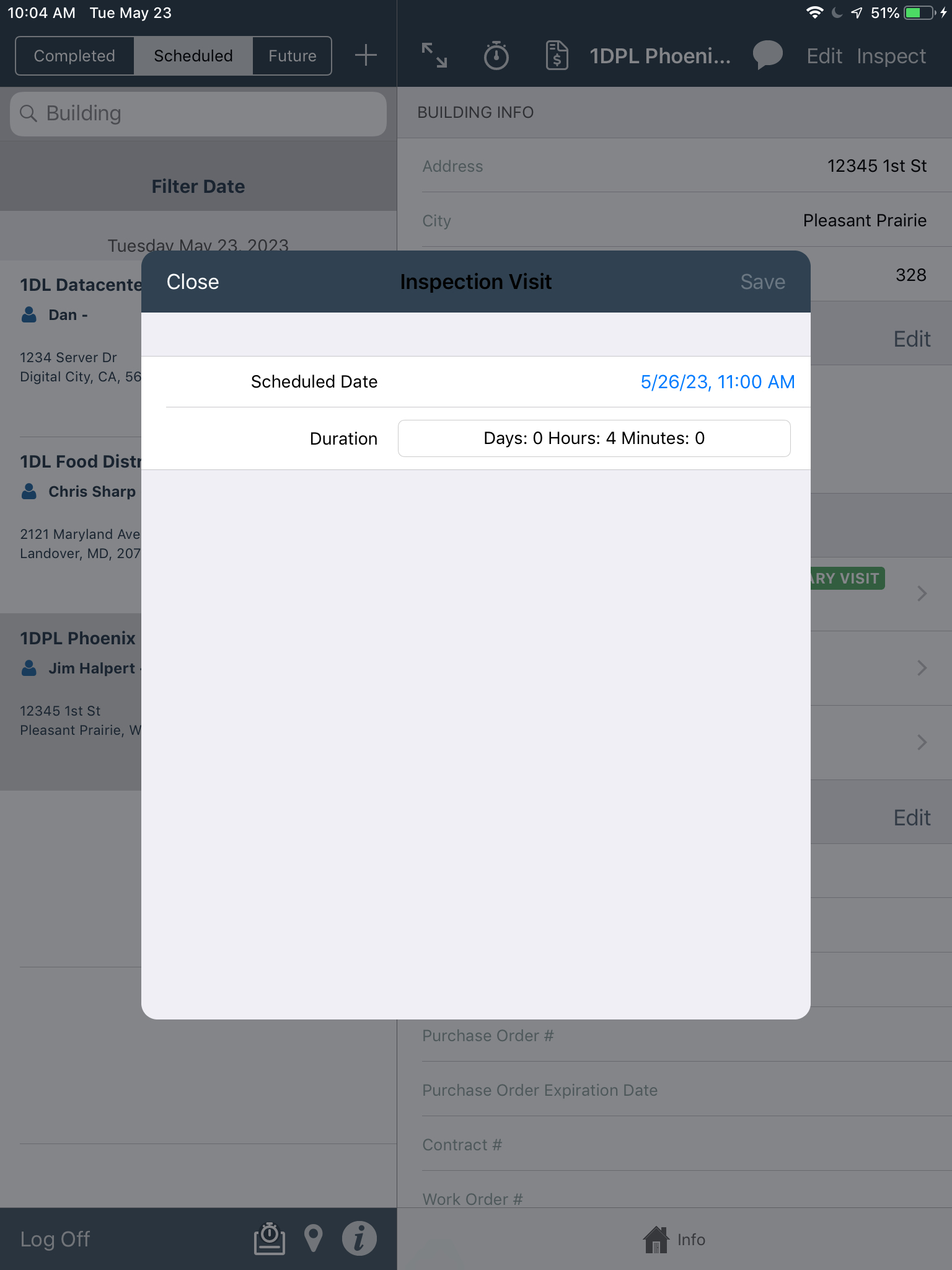 To change the date and time, tap the blue date and time button, make your desired changes, and tap "Save."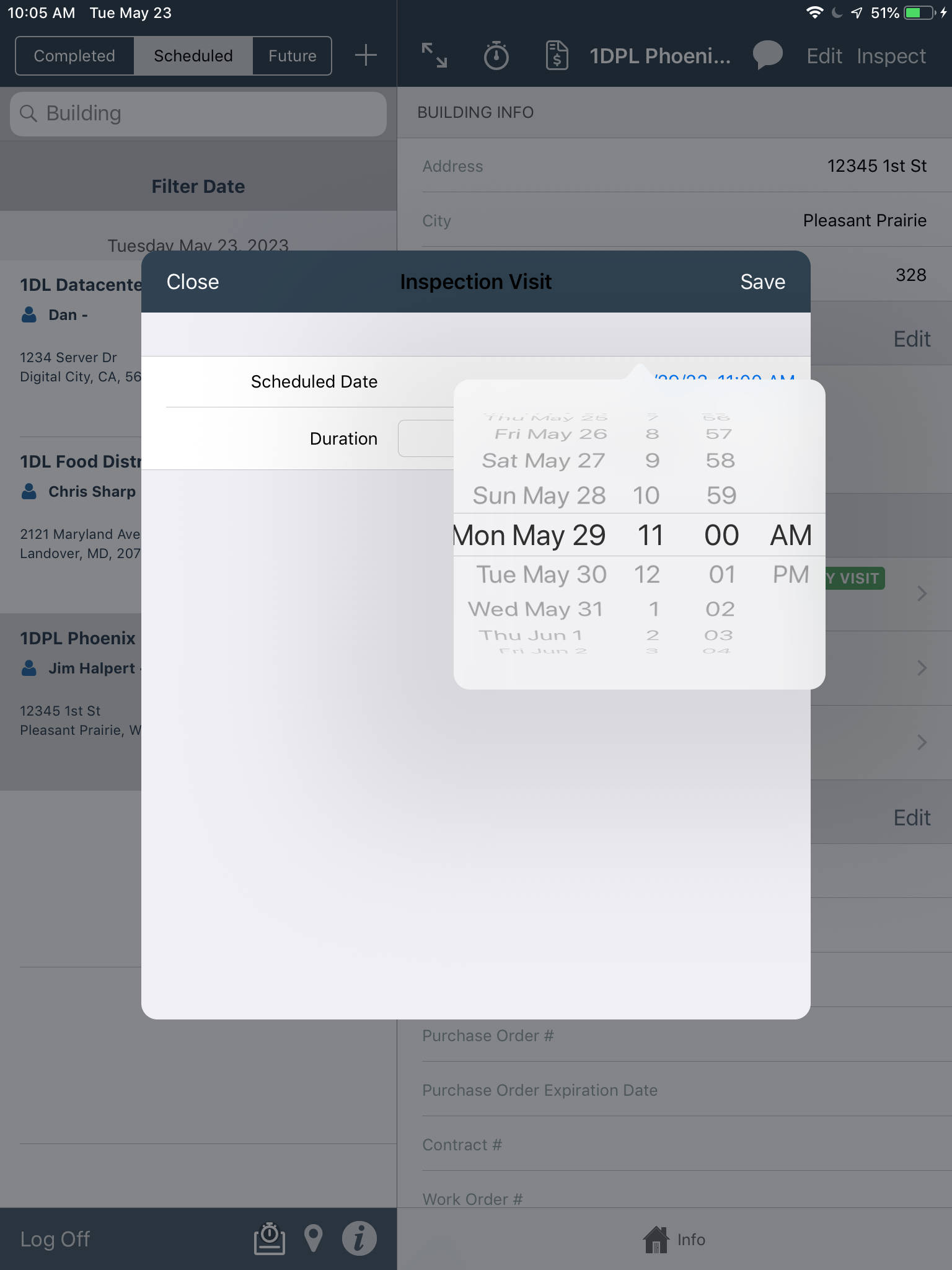 To change the duration of the visit, tap the duration text box, edit the number of days, hours, and minutes as desired, and tap "Save" to confirm your changes.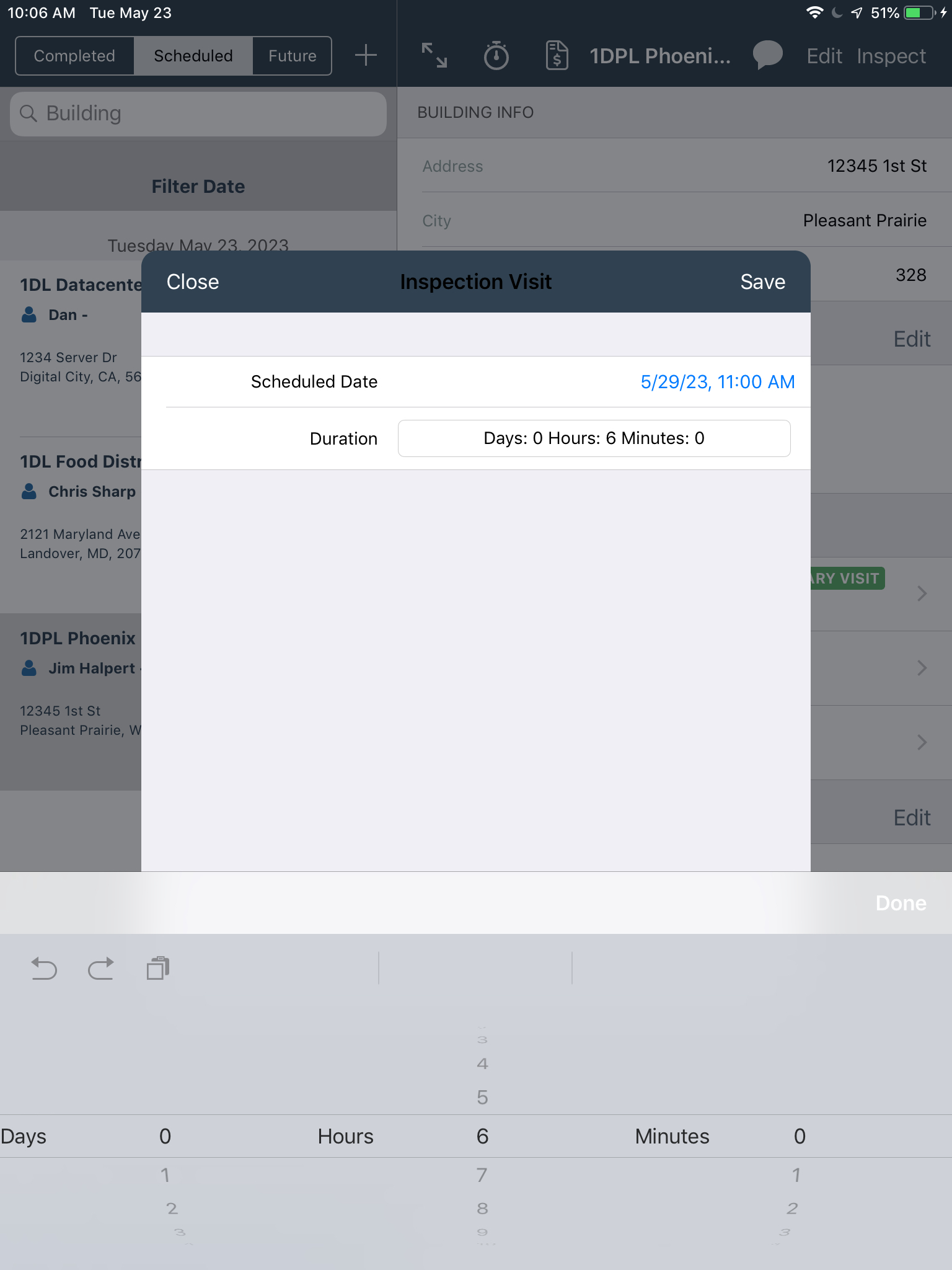 Once saved, the Schedule Information section will be updated to reflect your changes.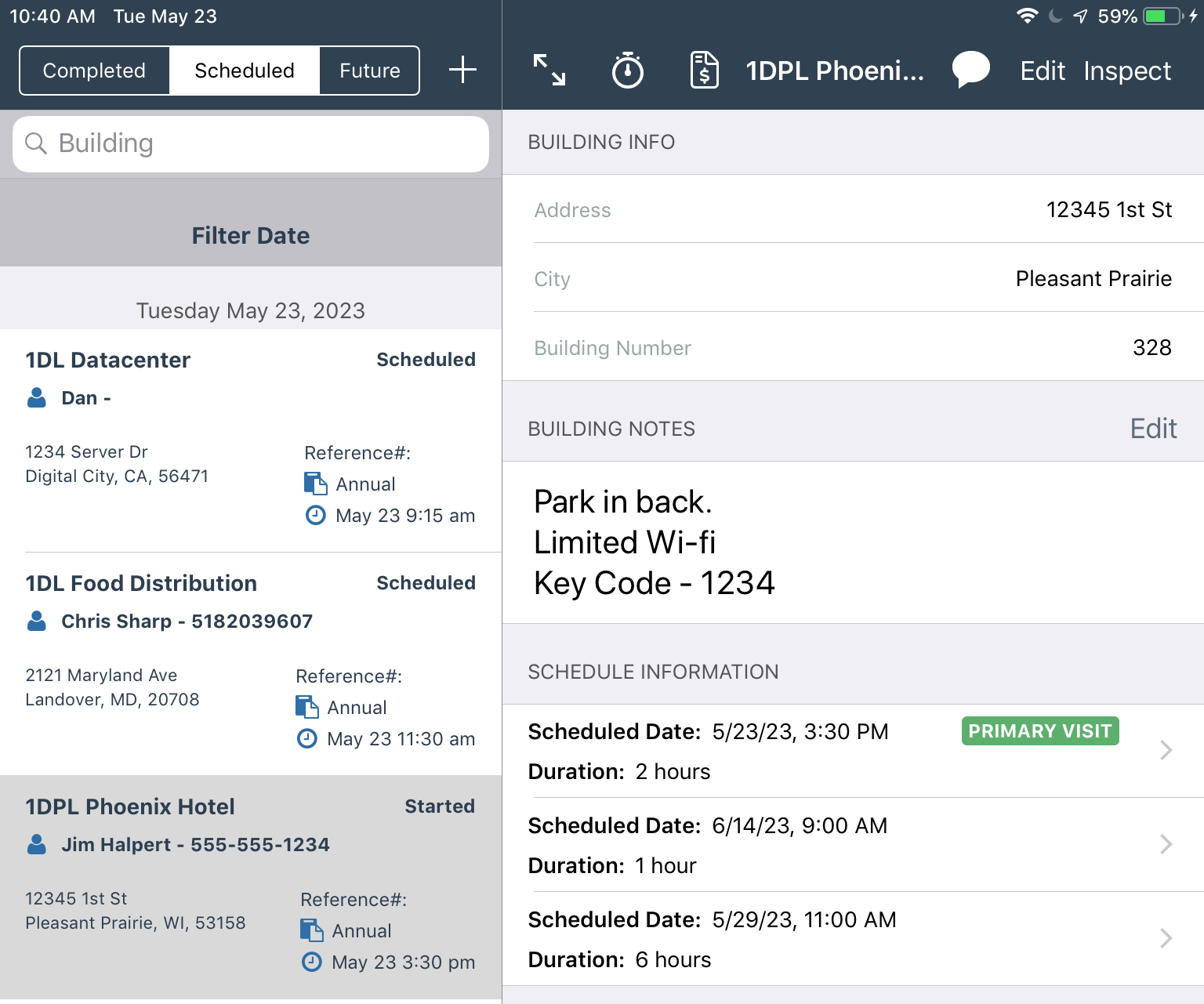 Notice in our original screenshot the visit on 5/29 used to be on 5/26 at 11am with a duration of 4 hours, and now it's scheduled on a different day with a duration of 6 hours.
These changes are also reflected in the office.

Continue self-scheduling as needed.
Need help? Contact our Support Team at support@inspectpoint.com or submit a support ticket via the web widget on the bottom left of your screen. Click here for more information.