Start on the Building Detail screen on the building you wish to mark inactive.
Click 'Edit Building' in the upper right corner of the screen.

Click the checkbox next to "Active" to mark inactive, followed by the 'Save' button.

A green success bar will appear indicating that you have successfully marked the building inactive.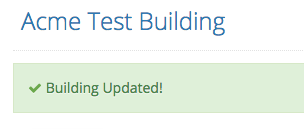 Need help? Contact our Support Team at support@inspectpoint.com or submit a support ticket through the "Submit a request" link above.