An email reminder can be sent out:
1 week
48 hours
2 weeks
30 days
prior to a Scheduled inspection that contains:
Your company name
The inspection date and time
The building name and address being inspected
To set up a reminder or multiple reminders...
Start on the building detail screen and select the 'Manage Reminders' option.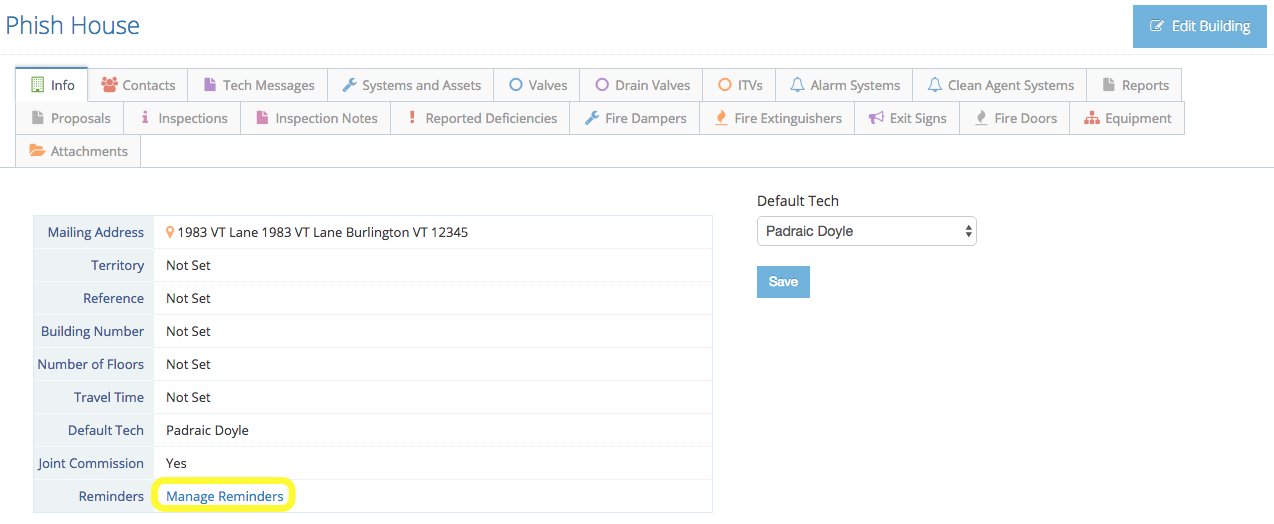 This screen shows any existing reminders, and allows you to add additional ones by pressing the New Reminder button.
There are currently no reminders for this building, click '+ New Reminder'

Click the Name drop-down on this screen to display the list of available contacts to be chosen for the reminder and select the desired contact and click Save.
The contact must have an email address entered to be available for a reminder.
Be careful to ensure that a valid email address is used
Click the Send reminder before drop-down to select when you would like the reminder to be sent. Available options are:
48 hours
1 week
2 weeks
30 days

Upon saving the reminder, we will be brought to the Notification Reminders page.
Click 'Edit' to make changes to a reminder.
The reminder is also set to 'Active' by default.

When editing a reminder, you can change the contact name and also toggle the active flag on the reminder from active to inactive.

Repeat this process to create additional reminders for multiple contacts or multiple reminder frequencies.
Sample Email Reminder
A sample email reminder is shown below. Please note: Your company name will appear and not Doyle Fire Protection. The date and time of the inspection, as well as, the address of the building will pre-fill based on what is inside your instance of Inspect Point.
Hello,
This is a reminder that you have an inspection scheduled with Doyle Fire Protection on 12/29/2022 10:00 am at the following address:
123 Test st
Watertown , NY
13601
Please contact Doyle Fire Protection if you have any questions.
Thank You,
Doyle Fire Protection