It is possible for a technician to generate an invoice in the field with Inspect Point Payments, or complete a "Pay Now" payment.
Please note:
The ability to generate an invoice from a work order is currently available only to "Platinum" users as it requires the Inspect Point work order/service module.





Technicians must be online or connected to data to use this feature.
Here is how to generate an invoice in the field: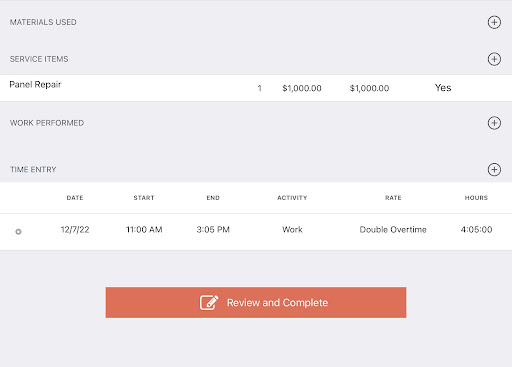 Build out the work order to reflect the billable amount. For example, include only the materials / items / time entries that you would like to appear on the invoice. (Note: Time entries will appear by default on the invoice, unless the "Exclude Time Entries from Service Report & Invoices" setting is adjusted in Service Settings.)





Proceed to "Review and Complete," review the final total, and ensure the amount is accurate.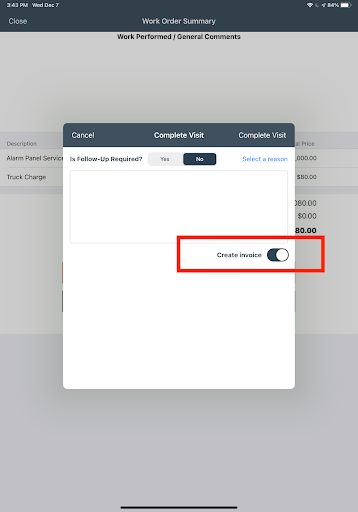 3. Press "Complete Visit." Toggle on "Create invoice," then click to complete the visit.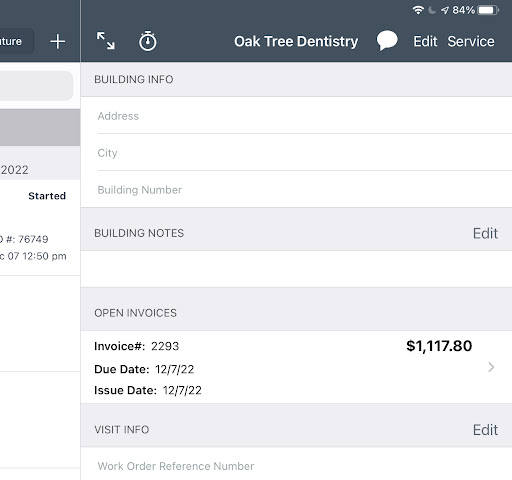 4. You will be returned to the work order overview screen. In the "Open Invoices" screen, you will see ALL unpaid invoices for the building that the work order is associated with, including the one you just created. You will see the red "overdue" label for overdue invoices. Ideally, if a customer is present, you can collect payment for all open invoices.
Note: If the invoice needs editing, click back into the work order, make any edits, and repeat the process above. You will be able to generate a new invoice only if a) it is not yet paid, and b) it is an invoice that you yourself created. If these factors are not in place, contact your back-office administrator for assistance.
How to show an invoice to a customer / collect payment:

To view the invoice, tap its row and a web link will open in a new tab. You can show the customer the invoice, and scroll to pay. Or, you can use the iOS "share" functionality to send either the web link, or PDF version, to them via SMS or email.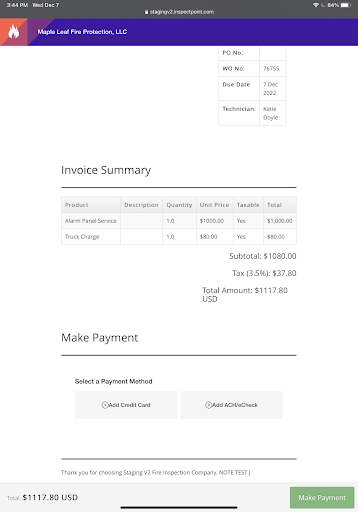 2. If the customer wants to make a payment on the spot, you can scroll to the "Make Payment" section, then press "Add Credit Card" or "Add ACH/eCheck." (Note, if a payment method is on file for the customer, they can select that payment method and do not need to re-enter it.)

3. Once paid, the invoice status will change to "paid" and the transaction details / history will be reflected on the back-end office.
Collecting a "Pay Now" Payment
If you are not using Inspect Point payments, you can enable technicians to take a "Pay Now" (non-invoice) payment in the field. First, go to your Payment Settings page and turn on "Enable Technician Pay Now" -



Once that is on, your technicians will see the payment icon in the top menu bar of their iOS device:





Clicking that will open your company's Pay Now web link, which the technician can use to take a payment, or they can share it via SMS or email.

In your Payment History, you will be able to see information about the payment, such as which technician and building it was associated with.

Need help? Contact our Support Team at support@inspectpoint.com or submit a support ticket through the "Submit a request" link above.