Inspect Point's fire extinguisher swap / loaner features make it quick and easy for technicians in the field to swap out extinguishers in need of repair, and track which extinguishers are loaners that will temporarily stay in their location.


Fire Extinguisher Swap - iOS
Swapping an Extinguisher
While doing an inspection on mobile/iOS, click into a Fire Extinguisher group, then tap on the extinguisher you wish to swap out.
Tap "Inspect" to open the fire extinguisher detail screen. Then, tap "Swap" which opens your Swap List.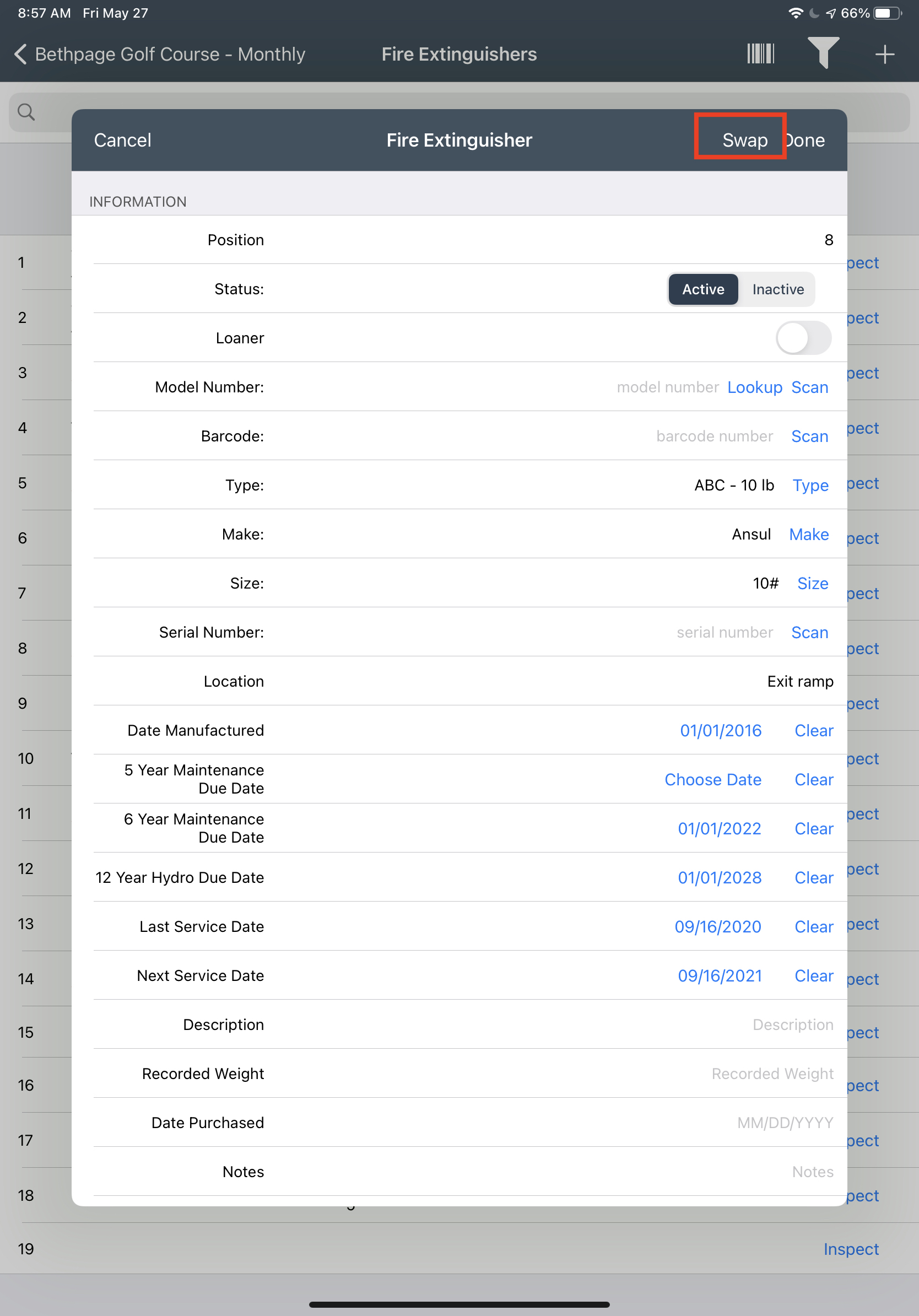 Working With Your Swap List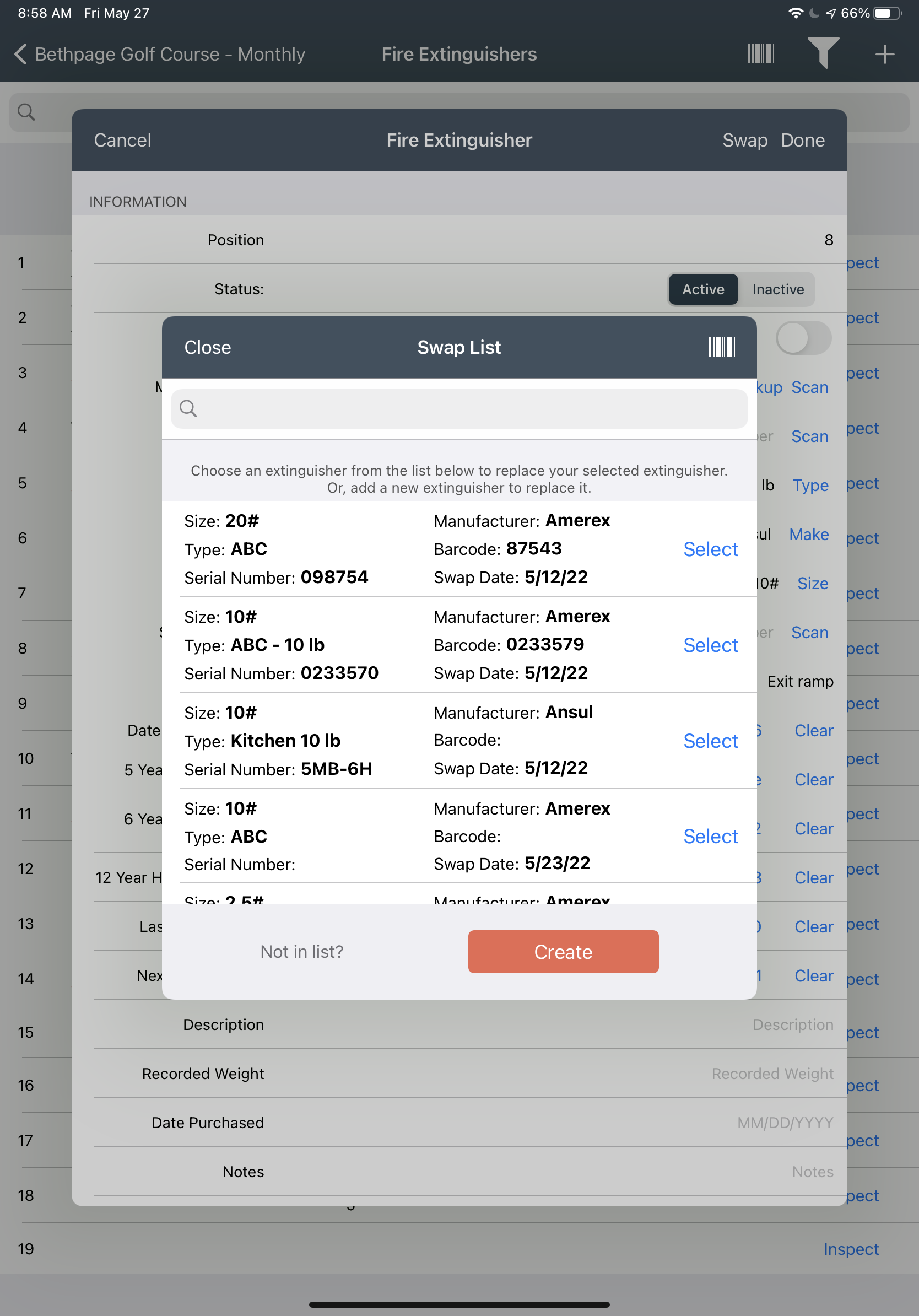 Your Swap List can be populated on the back-end office side (which is detailed later in this article), and will also be added to organically over time if you choose to add extinguishers that you swap out to the Swap List. (You can use your Swap List to enter/record extinguishers that you have available to put into the spot of the one you need to take away for repair, maintenance, etc.)
When you're in your Swap List, you can choose from an extinguisher that's already added to the list, or you can add an extinguisher to the Swap List to swap in.
You can do that by scanning it, or by clicking the CREATE button.
Upon swapping an extinguisher, you will be asked if you would like to place the existing extinguisher in your swap list. If you select "yes," it will be placed into your Swap List. (You can use the "Internal Notes" field to indicate if repair or maintenance is needed.) Any extinguisher you swap out stays as an inactive extinguisher on that building.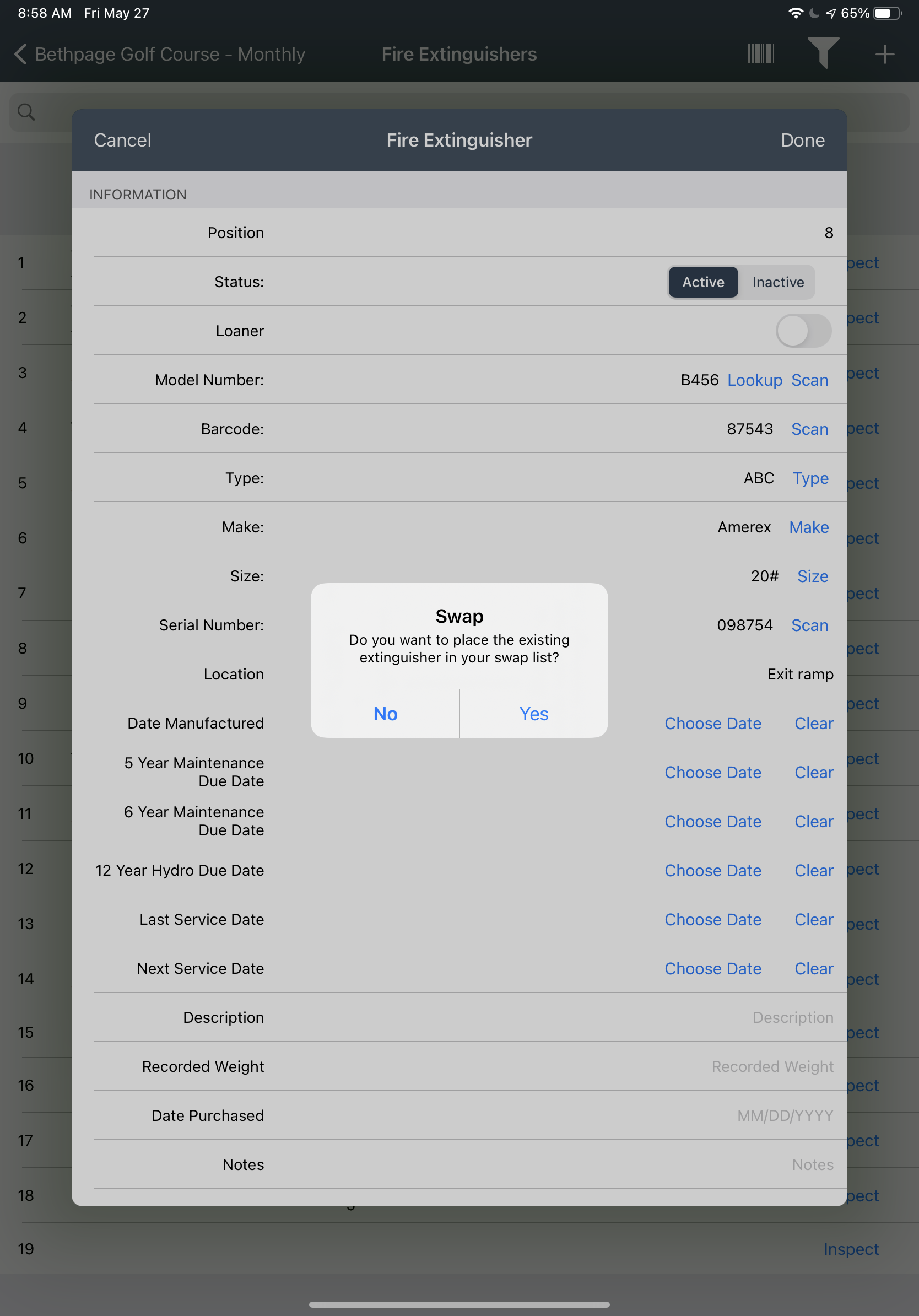 The extinguisher that you choose to swap in will automatically be populated with the position and location of the one you are swapping out.
Fire Extinguisher Swap - Back-end Office
On the back-end side, on your Settings screen, go to the Fire Extinguisher Swap List. Here you can import extinguishers, manually add an extinguisher to the list, and view/edit extinguishers in the list, and see which ones are loaners.

Adding an Extinguisher to the Swap List
Press "New Swap Item" to manually add an extinguisher to the Swap List. Fill out the desired fields, then press Save.


Importing Extinguishers to the Swap List
To import an extinguisher, press "Import." This opens a modal in which you can upload a CSV, or download a template which will help you to structure your data.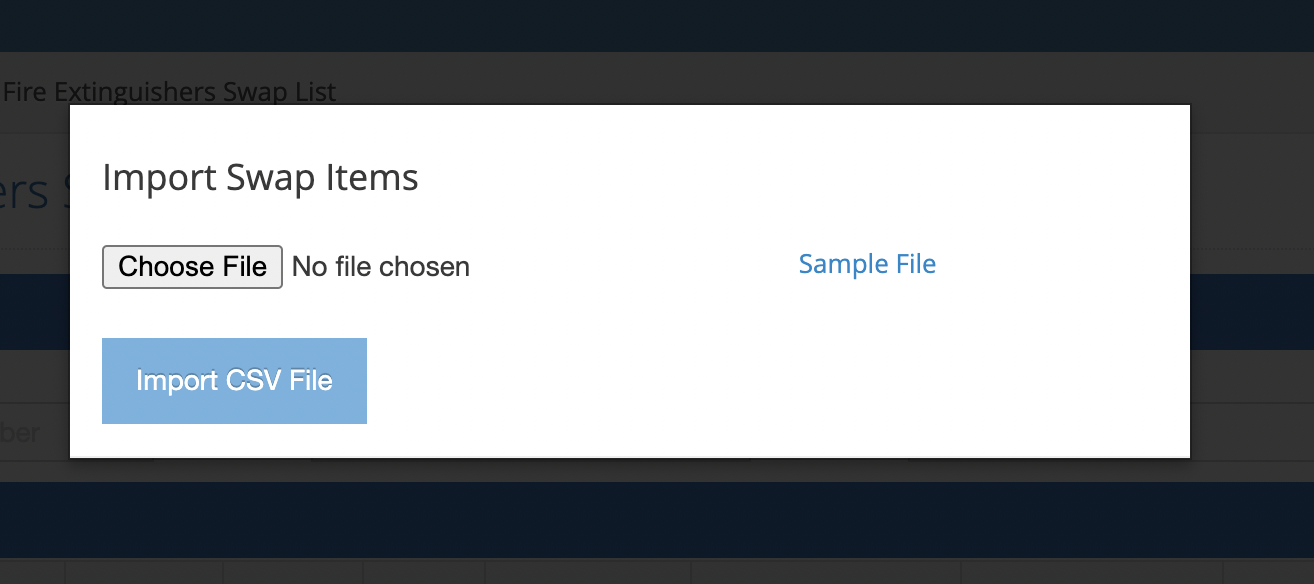 Editing an Extinguisher in the Swap List
Press "Edit" to edit an existing extinguisher. Make any desired changes, then press "Save."
Removing an Extinguisher from the Swap List
Press "Remove" to remove an extinguisher from your Swap List.
Managing the Swap List
In order to view and manage the Swap List, back-end users in the office must have Admin permissions.
Fire Extinguisher Loaners
On mobile/iOS, a technician can toggle the "Loaner" field on the extinguisher detail to identify that an extinguisher is a loaner.

The "loaner" label will then show up on the extinguisher listing screen on mobile/iOS.


Should you want to disable the loaner functionality, please contact your CSM and the feature will be removed from the iPad.
Need help? Contact our Support Team at support@inspectpoint.com or submit a support ticket through the "Submit a request" link above.