Before setting up your time entry rates, it's important to understand how time tracking works in Inspect Point.
Here's what to consider before you create your time entry rates:

The first step is to think about how you bill for time.

Some customers use time entries primarily for billing purposes, and include time entries on work orders and invoices. Other customers bill for service work in set increments (e.g. ½ day, full day) and use fixed-price service items to bill for time. In this case, their use cases include labor / efficiency management, or for payroll tracking purposes. If you bill for time using fixed-price service items and

not

time entries, you will likely want to choose to exclude time entries from service reports and invoices so that you do not double bill for time. You can adjust this setting on your "Service Settings" page.
The next step will be to set-up your time entry rates.

All time tracked within Inspect Point is tied to a time entry rate, an activity type (travel/work/other), and if travel/work, associated with a specific work order or inspections. ("Other" time entries are not associated with a work order or inspection.)
Your technicians will select an activity type and time entry rate while tracking time.

Technicians can clock-in/clock-out on their iOS devices, or add or edit time entries manually. If a technician's tracked time needs to be adjusted, a back-end office user can do so from within the web application.
You can then view tracked time on the individual inspection or work order detail screens, or in the Time Entry report.

You will be able to view the activity type and rate on each time entry.
Time Entry Settings
In Settings → Service Settings, if you would like time entries to appear as billable items on your service reports and invoices, enable "Exclude Time Entries from Service Reports & Invoices."
If this is disabled, time entries will NOT appear on service reports and invoices.
How to Set-up Time Entry Rates
In Settings → Company → Time Entry Rates, you can add custom rates that technicians can use to track time on work orders and inspections.
Then, enter in the following fields:

Name: The name of the time entry rate. This is visible to the technician and appears in your time entry lists/reports. If you are using time entry rates to track

billable

time, you might use a name to reflect the rate, e.g. "Weekend" or "Emergency." If you plan to use time entry to get a better sense of how technicians are spending their time, you might create rates to track different activity types, e.g. "Alarm Inspection."

Cost Code: This is an optional field that you can use if you'd like to associate a time entry rate with a cost code.

Activity Type: Select if this rate will be used to track "work," "travel," or other.

(In the reporting area, you can filter by this field.)

Note, "other" time entries are not associated with a work order or an inspection and must be added by a technician via the technician portal, or by the back office via the "Time Entries" page.

Available For: Select if you would like this rate to be available for use on inspections or work orders.

(Note, if you would like a rate that is available for both, you will need to create two versions of that rate.)

Billing Rate: Enter the rate at which you bill your customer for this time. Pricing in this section is not visible to technicians by default

. (If you are not using time entry for billing purposes and instead for labor management insights, you can set a $0 rate.)

Once a time entry rate has been created, you can select if it is active or inactive. If inactive, it won't show up as an option for technicians to use when tracking time.
Note that any rates you add will show up as an option in the technician's clock-in/clock-out modal and will appear if they manually add a time entry: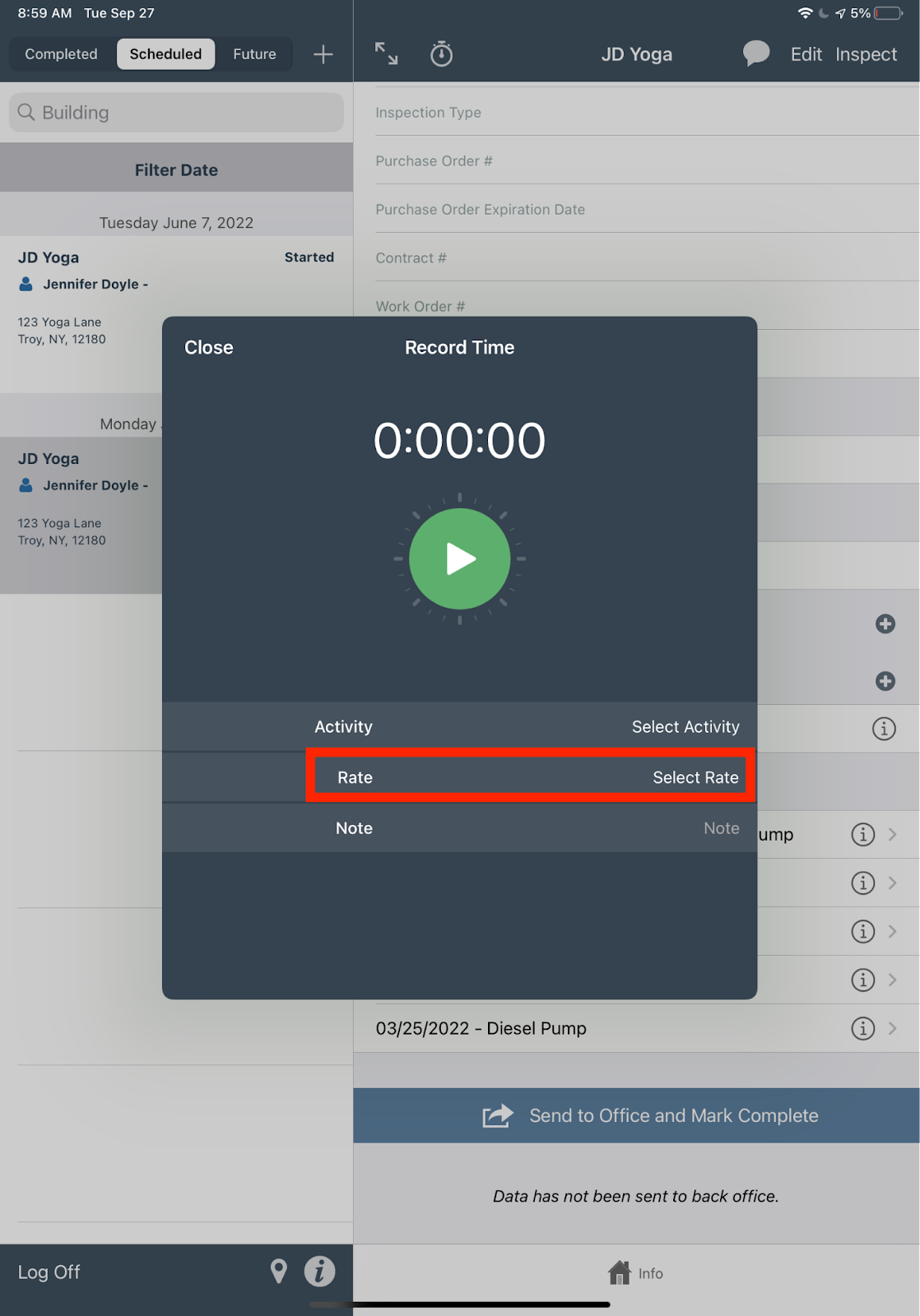 Need help? Contact our Support Team at support@inspectpoint.com or submit a support ticket via the web widget on the bottom-left on your screen - Click here for more information