The Inspection Series feature allows you set up your inspections - based on frequency, type, and what is being inspected - for the year (and years to come). All inspections are automatically placed in the Pending status and set to the first of the month they are due.
From the Building Listing screen, click the Building Name of the building you'd like to set up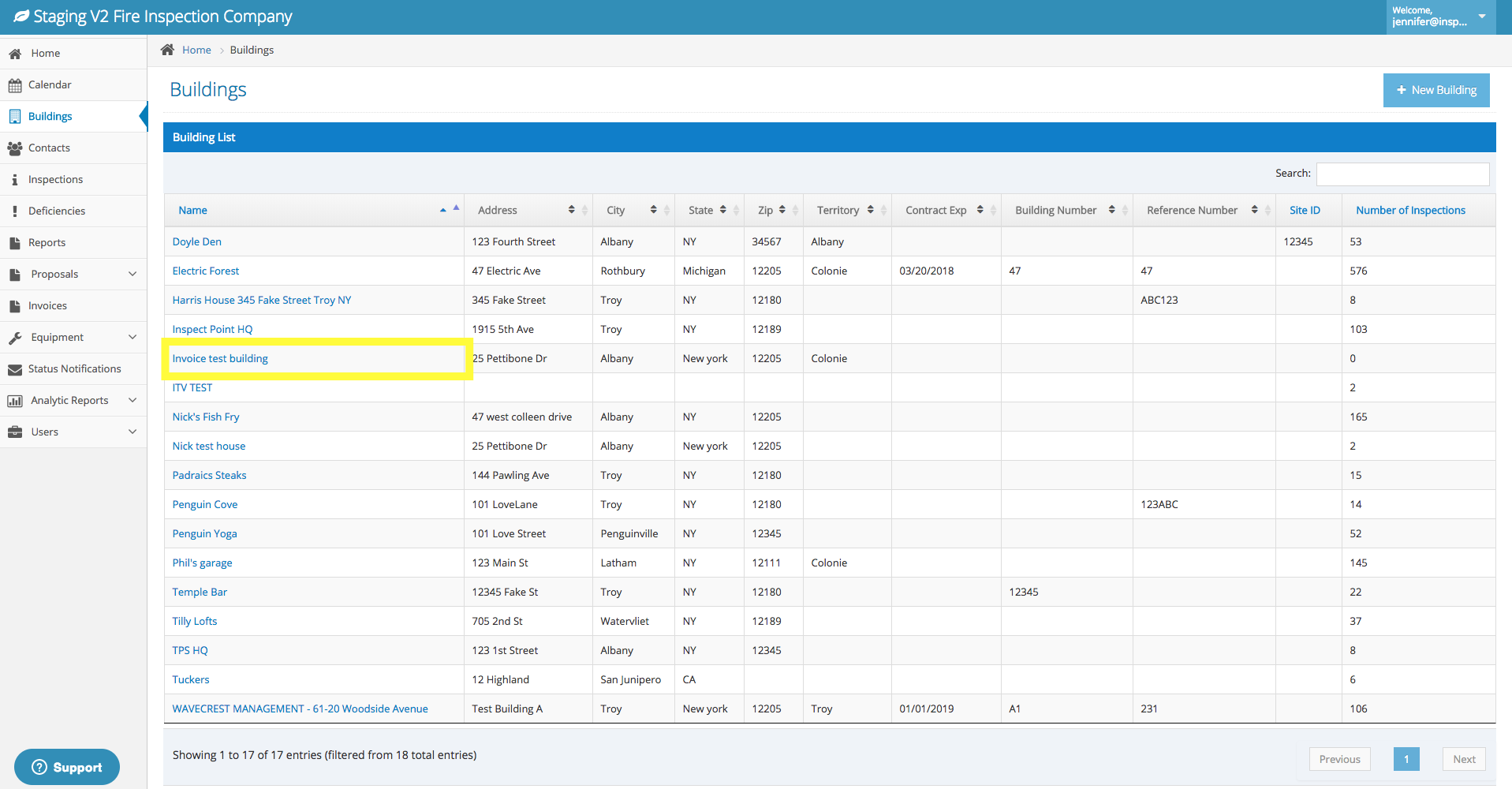 Once on the Building Detail screen, click the Inspections tab

Click +New Inspection

Click Repeat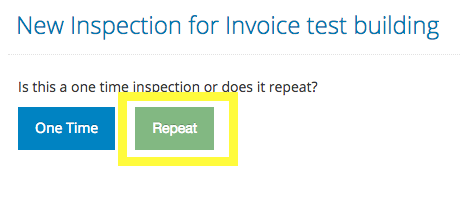 NOTE: You will now see a progress tracker at the top of the screen that walks you through the steps and information needed to set up an inspection series
Step 1: Details

Add pricing information (optional), set a default technician (optional), set an end date for the inspection series * (optional), and select what will be inspected (frequencies are set on next screen)
* Please Note: all inspection series are by default set to end 5 years in advance. All users will be notified 60 days prior to the end of the inspection series - regardless if the date is adjusted or remains set to five years in the future.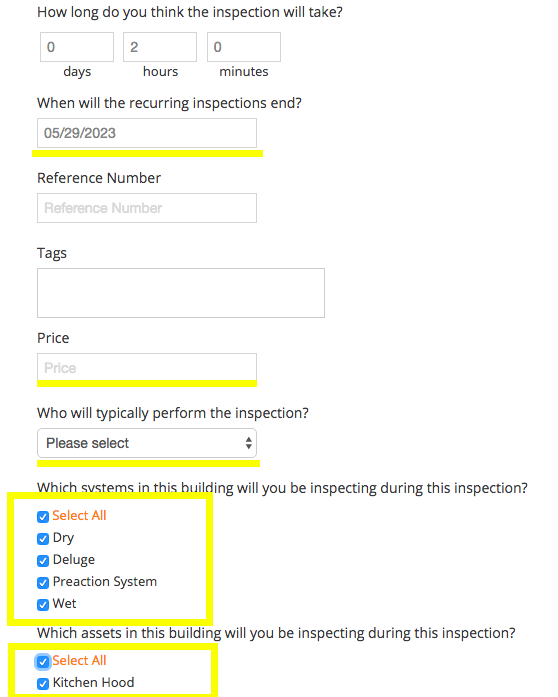 When done, click the Next button on the bottom right of the screen
Step 2: Frequencies
Click the checkbox next to each frequency that applies to the items selected in Step 1. Setting price and duration are both optional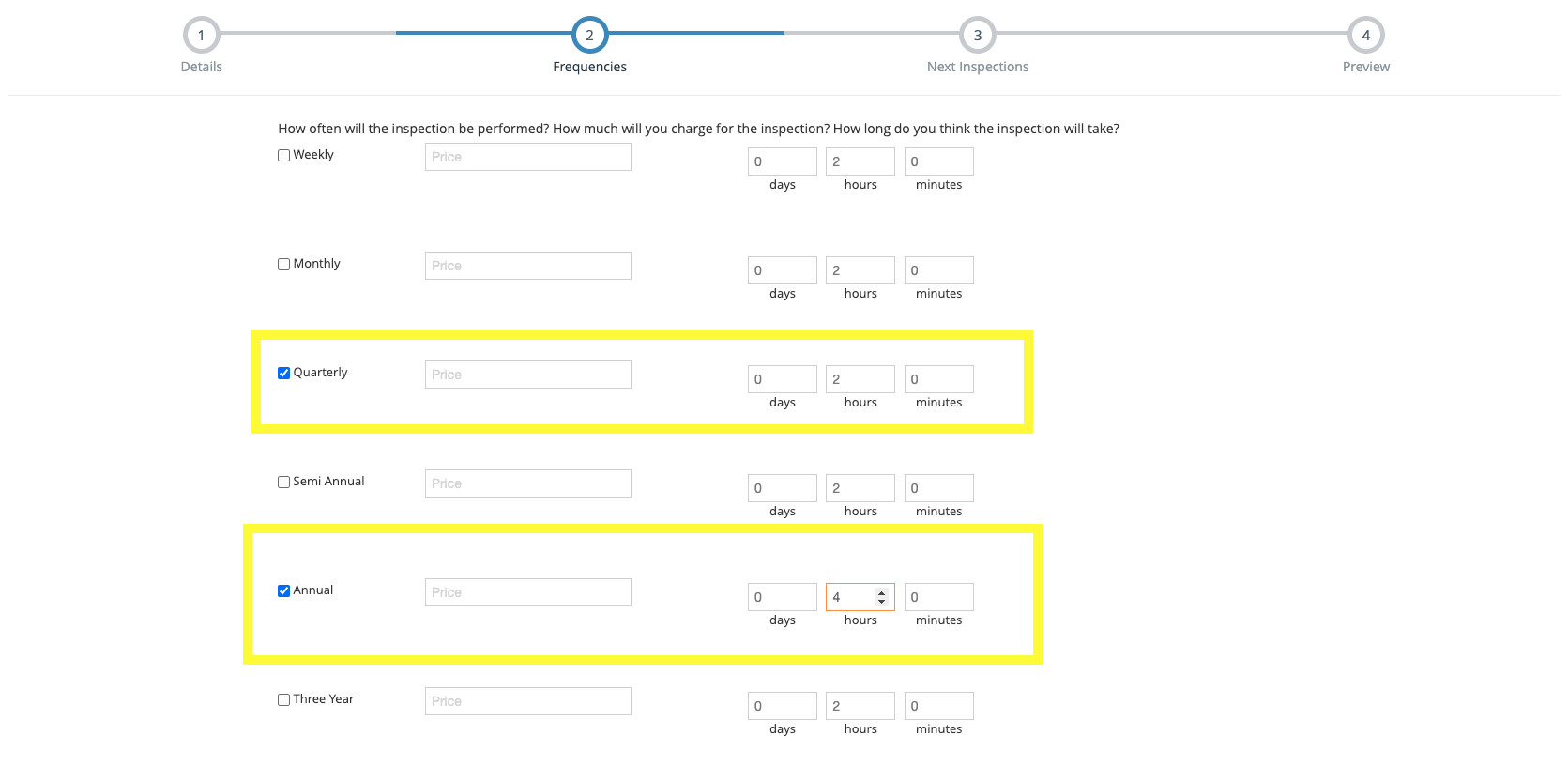 When done, click the Next button on the bottom right of the screen
Step 3: Next Inspections

Select from drop-down the month the next inspection will take place for each frequency selected in Step 2

When done, click the Next button on the bottom right of the screen
>>>>>Please note: When setting up a series, the inspections default to the first of whatever month they are created for. Since the program won't create an inspection for the past, what you want to do is setup your series as you normally would, then create a one time inspection for the current month
Step 4: Preview

You will now see a preview of the year and what frequency will be set for each month

If the preview is correct, click Create Inspections
If you need to make any adjustments click Back
>>>> Once inspections are created for this series you will be redirected back to the Building Detail screen
To view the inspections, click the Inspections tab on the Building
You will now see the inspections listed on the screen in the Pending status for the first of the month they are due

>>>>If additional Inspection Series are needed (i.e. fire alarms vs sprinklers, different technicians) repeat the process outlined above